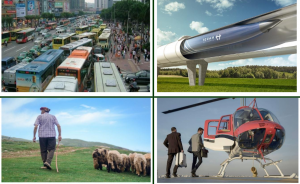 17 juillet 2020 : le comité de sélection des projets européens H2020 a sélectionné le projet REBALANCE soumis par l'Université Gustave Eiffel, laboratoire ville mobilité transport, et ses partenaires italien, espagnol, belge et slovaque.
Titre : Future mobility values and culture – Acronyme : REBALANCE
Chercheur porteur du projet au Laboratoire ville mobilité transport : Alain L'Hostis
Thème : Rebalance va étudier un possible changement de paradigme dans le domaine du transport. De nouvelles valeurs, liées à la mobilité, semblent émerger dans le champ social; le projet vise à les identifier dans le but de les intégrer dans les politiques publiques. Un exercice intellectuel collaboratif ambitieux est mené, mobilisant un large groupe multidisciplinaire de penseuses et de penseurs à l'échelle internationale. Ce groupe réunit des philosophes, des sociologues, psychologues, des spécialiste de psychologie sociale, des géographes, et des juristes, dans une configuration inhabituelle si l'on considère les débats antérieurs sur la question de la mobilité. Ces réflexions nourriront la rédaction d'un Manifeste pour une Nouvelle Culture de la Mobilité. Ce manifeste, exprimant les valeurs partagées et les aspirations des citoyens européens, a pour ambition d'influencer les éléments fondamentaux des politiques de transport européennes, et de constituer une base pour le changement de la façon dont les individus envisagent la mobilité et de la prise de décision en matière de politiques de transport.
Summary : REBALANCE will conduct an open deliberative forward-looking exercise towards a transformative transport policy in favour of a paradigm shift in mobility. It will push for the more effective ponderation of emerging social values not yet fully considered in transport policymaking, and a betteralignment with the SDGs and the mounting concerns about climate change. To do so, REBALANCE will launch a Europe-wide high-level discussion on all the fundamentals of transport policy embedded in the current mobility paradigm. By critically reviewing the present -also in the light of the recent COV19 pandemic which drastically affected our lifestyles- the project will mobilise around the New Mobility Cultures and Policies Hub a wide network of transport experts and stakeholders to discuss and converge on a shared vision over a more sustainable path and jointly devise a roadmap for a new transport paradigm. The novelty, but also the strength of REBALANCE lays in the unconventional array of multidisciplinary thinkers that will contribute to the debate. As a new paradigm requires opening the windows of imagination, the project will count on the contribution of a multifaceted group of renowned philosophers, sociologists, social psychologists, geographers, and jurists that have not necessarily been involved in the past and current transport research debates. Their role is to provoke and shake the foundations of the current way of thinking and fertilize the continuing cultural and political deliberative process. The ultimate ambition is to reflect the joint effort in a Manifesto for a New Mobility Culture, to make sure that shared values and beliefs of Europeans are embedded in the fundamentals of the new transport policy, and lay the foundations for a long-term cultural change in the way people understand mobility and take decisions on transport policies.