When Algorithms Are Making Waves
Affiche officielle (un événement "reconnect Online Performance Festival").
Art and Sociology Meeting Artist Gaëtan Robillard invites scientist Olivier Bonin for an online video conference. This exchange pursues an artistic investigation of climate change, society and the way algorithms shape the understanding of both natural and human environment. 
Inscrivez-vous ici pour obtenir les liens ZOOM / jeudi 27 mai 18h30 heure de Paris
Conférence en anglais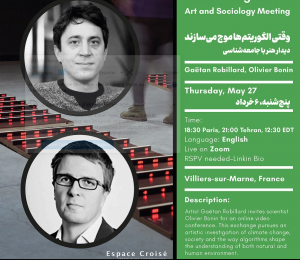 Voir aussi le travail d'Olivier Bonin sur les fractales et la modélisation urbaine (Projet Multifrac) et sur la sobriété énergétique (Projet SOFT)